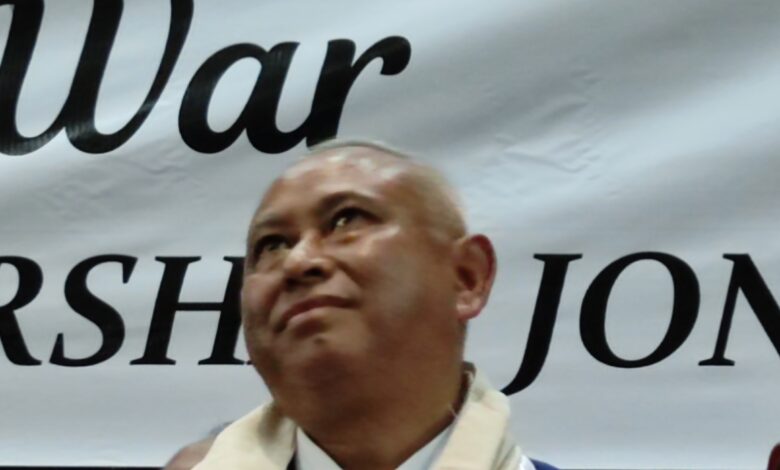 Shillong, July 6: The UDP is aiming at becoming team A and not team B of NPP or other political parties.
During the induction of retired director of health services, Dr Aman War, the UDP leaders Jemino Mawthoh and Kyrnen Shylla asserted that time has come for the UDP to become team A and not team B.
The UDP announced the name of War, as its official candidate from Shillong North ito contest the upcoming 2023 assembly elections.
War was formally welcomed by the UDP president and Assembly Speaker Metbah Lyngdoh at a meeting held at the Khasi National Durbar Hall, Mawkhar in presence of the party legislators and leaders.
Lyngdoh urged the people of Shillong North to extend their full support to War.
"With the kind of support we are getting, I have no doubt that the party will not only perform well in North Shillong but the entire Khasi – Jaintia Hills and Garo Hills region," he said.
Lyngdoh said the party will be setting up candidates in the Garo Hills region as well. He also expressed confidence that the party will cross the halfway mark by getting more than 30 seats in 2023.
The UDP chief said many sitting legislators from other political parties have expressed their interest to contest from the UDP.
War said some were of the opinion that he joined politics very late considering that he is  58 years old and has just retired from office.
"But I want to reply this by saying that although I am 58 years old  I still feel as young as a 27 -year -old and with my 37 years of experience, I assure you that I will work hard to fulfil the aspirations of the people of North Shillong," he added.
War said the winds of change should start from his constituency.
The UDP chose to induct War at National Dorbar Hall as the oldest regional party, APHLC was born on July 6, 1960 here.
Remembering the contribution of the APHLC,  War said, "Although we embraced that past, it is time to forge ahead, to work together and lead our state to the stature that it deserves in all fields. It is not easy considering the current state it is in but I promise that I will work diligently with your support and encouragement."
He admitted that he is still very new to politics, and added  that he is ready and willing to learn from the best leaders of the UDP.
"I may lack experience but I will make up with determination, sincerity and dedication," he added.