Headlines
UDP to lead govt in 2023, says youth wing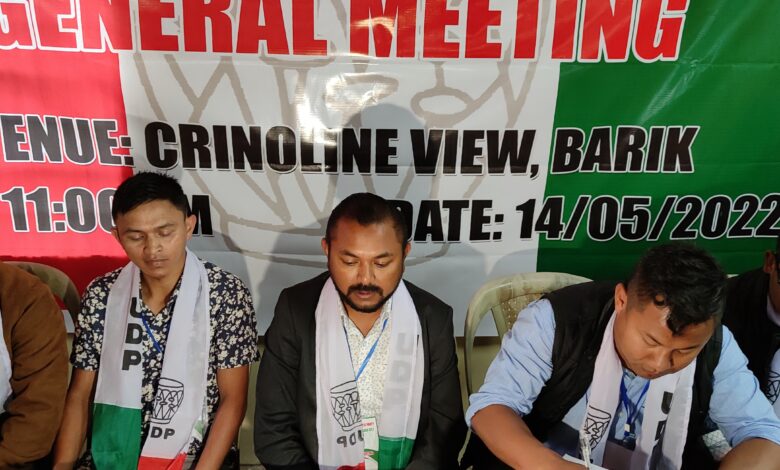 Shillong, May 14: The UDP is confident of  leading the government in 2023.
UDP Shillong City District Youth Wing, Manbhalang Syiemlieh said 2023 will be the year where people will see a change in Meghalaya.
Speaking to reporters after the meeting of the youth wing, Syiemlieh said, "We will not just follow or be part of the government but the UDP will lead the government".
He reasoned that people have experienced enough of political parties being categorised as national parties.
"Therefore, it is very high time for people to support the UDP and I am sure we will definitely come out successfully next year", he added.
To a question about UDP being equally responsible for decisions taken by the Meghalaya Democratic Alliance government, the youth leader said though the party is part of the government it doesn't mean that whatever the government or the NPP decides, the UDP will go along with that.
He pointed out there have been times when UDP was against the decisions taken by the ruling party.
"In 2023 elections, we will go separately and we will address so many issues and we will also voice out our objectives for the state", he said.
Not sillent on border issue 
He said the party is not at all silent on the Memorandum of Understanding (MoU) signed between Meghalaya and Assam for resolving 6 of the 12 areas of difference.
Syiemlieh added that the Chief Executive Member of the Khasi Hills Autonomous District Council has already moved forward to court for filing a petition against the MoU.
"Not only that, our president has also spoken to the people of Meghalaya with regard to this issue," he said.
Regarding the stand of NPP MDCs against the decision to file the petition, the youth president said, "The people will answer to that, you will see the seriousness of UDP in this and you will see that the other parties are not serious about this. The UDP has taken the initiative to file a petition in the court of law with regard to this."
When asked whether the UDP would consider pulling out of the MDA government, he said, "I cannot say anything. Let the leaders of the party decide on this."
Commenting on the remarks that the regional parties including the UDP only end till Byrnihat, Syiemlieh said the regional parties do not end only within the boundary of Meghalaya.
"Let me remind you about Prof George Gilbert Swell. He was the Deputy Speaker of the Lok Sabha and he had also contested for the presidential election of India. Therefore, we have had so many leaders without mentioning them who have crossed the boundary of the state and even the international boundary to become leaders. Most of them belong to our regional party," he said.
Pre-poll alliance 
Syiemlieh said the party leadership will take a call on whether it will go for pre-poll alliance with its RDA partner – the Hill State People's Democratic Party (HSPDP).