International
40 killed as Russia attacks Ukraine
Ukraine seeks India's help, says unhappy with Centre's wait & watch stand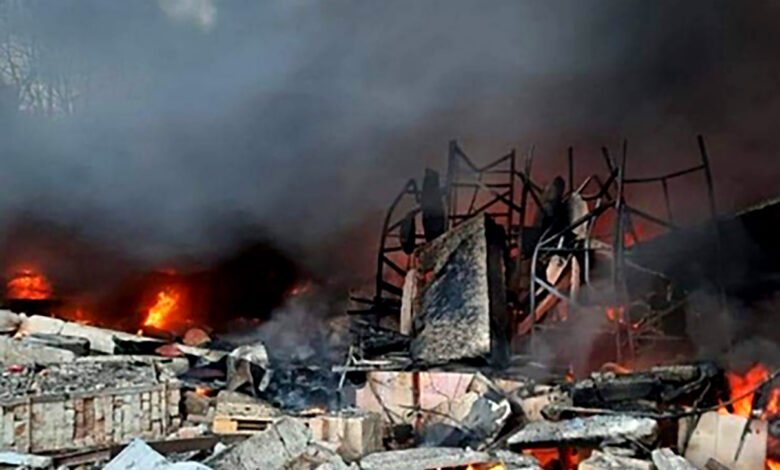 Kyiv/New Delhi, Feb 24 (UNI): Air raid sirens wailed across Ukraine's capital Kyiv on Thursday as explosions boomed and flashed in cities across the country after Russian President Vladimir Putin authorized a military action against its western neighbour.
Around 40 people are reported to have been killed so far. President Putin announced the military action early in the morning, after weeks of tense build-up, and attracted widespread condemnation from leaders across the world. Long lines snaked outside of ATMs, supermarkets and gas stations in cities such as Kyiv and Mariupol as people scrambled to prepare for what was coming.
Residents and communities across the country were gripped with "severe panic" as Russia on Thursday launched what Ukraine said was a "full-scale attack" against its neighbour, with cities bombarded from the air and forces fighting on the ground.
Ukrainian President Volodymyr Zelenskyy said his country was under attack "from the south, north, east and from the air". Kyiv said the Russian offensive had killed 40 people so far. US President Joe Biden said that he would meet with allies to impose "severe sanctions" on Moscow.
Zelenskyy also said all Ukrainians willing to protect their country will be able to take up weapons.
"We are already giving out weapons and will continue giving them out to all those willing and capable of defending our sovereignty. The future of our Ukrainian nation depends on every citizen of Ukraine. Everyone who has combat experience and can join in the defense of Ukraine must immediately go to the appropriate recruitment centers of the Ministry of Internal Affairs," he said, addressing the nation.
On Thursday morning, Russian President Vladimir Putin declared a military operation against Ukraine. In a televised speech, the Russian leader said that the self-proclaimed Luhansk and Donetsk republics had requested help from Russia to counter Ukrainian military aggression. The Russian Defense Ministry said the army is not targeting Ukrainian cities, so there is no threat to civilians.
In June 1941, following the launch of Operation Barbarossa, Ukraine was invaded by Nazi Germany and quickly became occupied. Earlier, in an address to the nation, Zelenskyy said he would not give its freedom and sovereignty to Russia.
Ukrainian envoy to India Igor Polikha on Thursday sought India's active intervention to stop the Russian aggression, and said Prime Minister Narendra Modi is a powerful global leader whose voice would be heeded by Russian President Vladimir Putin.
Addressing the media, the Ukrainian Ambassador Polikha said that Ukraine is "expecting a much more favourable attitude of India to us in this crisis situation. It is a moment of truth and a moment of destiny".
India has not taken sides in the crisis, and called for diplomacy to resolve the crisis. "India is a powerful global player and in case of aggression by the totalitarian regime against the democratic country of Ukraine India should assume its global role. Modiji is one of the most powerful and respected leaders of the world," Ambassador Polikha said in an impassioned address as Russian President Putin ordered military intervention in the Donbas region of eastern Ukraine.
Referring to the Indian mythologies and history, he said that India had Chanakya more than 2,500 years ago, when a major part of Europe did not have such high level of diplomatic statecraft. He also referred to the Mahabharata, and said that it took place before the advent of Christ.
He also voiced unhappiness with India saying that it is "monitoring the developments closely" in Ukraine. "We are deeply dissatisfied with this," he said, adding that though now a few people have been killed in the clash, but when "hundreds are killed what will happen, you cannot say we are following more closely".