Infotainment
Birju Maharaj: An artiste of rare calibre
Legendary kathak exponent died aged 83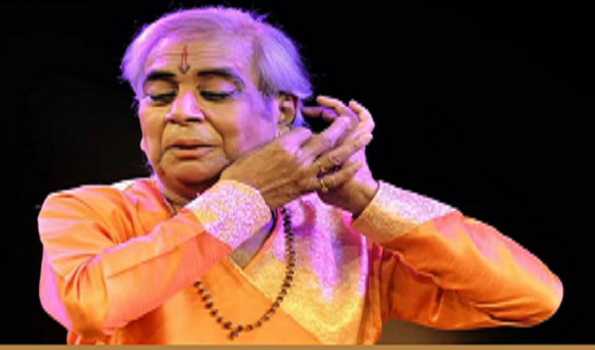 New Delhi, Jan 17 (UNI): Legendary kathak dancer and Padma Vibhushan awardee Pandit Birju Maharaj passed away in the wee hours of Monday after suffering a heart attack.
The 83-year-old doyen breathed his last in New Delhi.
Taking to Instagram, Pandit Birju Maharaj's grandson Swaransh Mishra said, "With profound grief and sorrow we inform the sad and untimely demise of our most beloved member of the family, Pt. Birju Maharaj Ji. The noble soul left for his heavenly abode on 17th Jan 2022. Pray for the departed soul.. Grief-stricken: Maharaj family."
Singer Adnan Sami shared a picture and post on his Twitter with the caption, "Extremely saddened by the news about the passing away of Legendary Kathak Dancer- Pandit Birju Maharaj ji."
Throughout his career, the legendary dancer mesmerised people with speed, grace, skill, fluidity and technique of his steps.
Born in Lucknow on February 4, 1938, he was the son of prominent Kathak master Jagannath Maharaj and became a leading exponent of the Lucknow Kalka Bindadin gharana.
The young Birju was destined to follow in his father's footsteps who trained him in his early years after recognising the boy's potential.
However, his father died when the boy was just nine years old. He was then trained by his uncles, the legendary dance masters Shambhu Maharaj and Lacchu Maharaj. At age 13, he became a dance master at the Sangeet Bharati in New Delhi.
He eventually became the Head of Faculty and director at the Kathak Kendra (a unit of Sangeet Natak Akademi) from where he retired in 1998. He then opened his own dance school, Kalashram.
At the school he used the traditional parameters to choreograph new presentations to convey to the audience that even classical style can be very appealing, interesting and dignified.
Well versed in Hindustani Classical, he was also a trained singer in Thumri and Dadra. In addition, he knew how to play the tabla, naal and violin.
A master of his craft, each step he took to the sound of a musical note and varying rhythms was nothing short of precise and complex mathematical calculations.
Known for his precision, grace, perfect rhythm/taal and expressive abhinayas, Birju Maharaj had the rare ability to create a whirlwind of emotions through his footwork and movements whether it be raw of simplicity of the human desire or the sheer complexity of the expression that is human society.
His style was a blend of elements from different schools, inheriting the stylised fluidity from his uncles, and the precision of footwork and play of face from his father.
He made his first foray into the world of cinema with Satyajit Ray's 1977 film Shatranj Ke Khiladi where he was asked to choreograph the dances in the court of Wajid Ali Shah, the last nawab of Awadh who was a lover of arts.
Ray did not want any 'filmi kathak' rather 'pure kathak' was his ask from Birju Maharaj, who fulfilled his demand by being as meticulous as he could looking up to the body movements, eye glances, angles, expressions, footwork, twirls and head turns in order to capture the real-life essence of the raw classical kathak so as to instil a sense of serenity in the nawab.
The dance was done by Saswati Sen, one of his long-time associates who was also one of his senior disciples.
He also choreographed other dances pieces in Bollywood such as the song Kahe Chhede Mohe… from Sanjay Leela Bhansali's film Devdas.
In this song, Madhuri Dixit danced wearing a heavy lehenga. Birju Maharaj believed that Madhuri is also a great dancer like Meena Kumari and Waheeda Rehman.
He choreographed the song Mohe Rang Do Lal for another of Bhansali's blockbusters Bajirao Mastani featuring Deepika Padukone. He taught Kathak to Deepika.
One of his most celebrated choreographed performances was of the Roopmati-Baz Bahadur love affair of 16th century which he performed in both India and abroad. With only a few dancers, he orchestrated movement and pace and filled the stage creating a powerful and enthralling presence.
Birju Maharj won several awards. He was honoured with the Sangeet Natak Akademi Award in 1964, Padma Vibhusan in 1986, the Kalidas Samman in 1987, Soviet Land Nehru Award, the Lata Mangeshakar Puraskar in 2002, Honourary Doctorate from Indira Kala Sangeet Vishwavidyayla and from Banaras Hindu University.