Headlines
Claims & counter claims over 12 areas of difference in border meet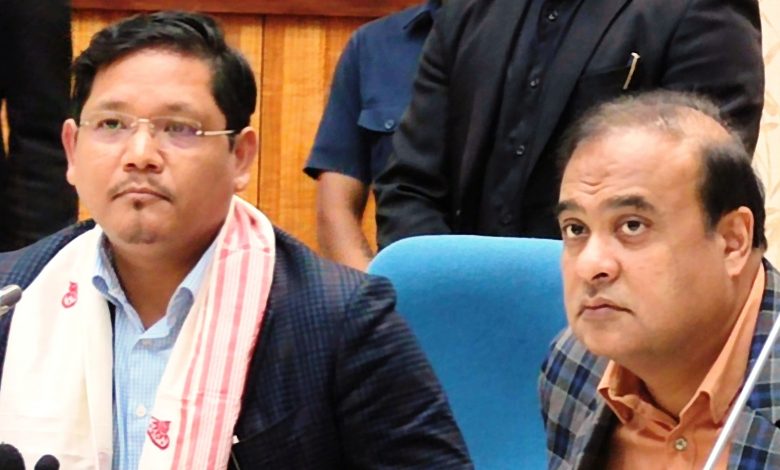 Shillong, July 23: Claims and counter claims have emerged regarding the 12 areas of difference in the Assam-Meghalaya border during the meeting of the chief ministers of both Assam and Meghalaya, Himanta Biswa Sarma and Conrad Sangma.
The meeting on Friday lasted for almost two hours and Sarma, while admitting claims and counter claims, downplayed the issue and made it clear that both the states are committed to resolve the issue at the earliest.
"Meghalaya has identified 12 places as disputed areas, they made claims over the areas citing historical facts, and placed other relevant data to justify the claims stating that Assam should give back the areas, similarly, Assam also justified and placed our documents to prove that these places belong to Assam and the claims of Meghalaya may not be justified," Sarma said.
The documents and maps submitted by Meghalaya are regarding 2,700 square km of disputed areas comprising 12 sectors– Block-I and Block-II, Ratacherra, Khanduli-Psiar, Khanapara-Pillingkata, Deshdemoreah, Nongwah-Mawtamur, Boklapara, Borduar, Langpih, Hahim, Gizang Reserve Forest and Upper Tarabari.
Spirit of  give and take  
According to Sarma, in the context of contradictory stand, it is important to resolve the issue in the spirit of give and take and considering the longstanding friendship between both the states and also keeping in mind the spirit of North East.
He said the merits and demerits of claiming 12 areas of dispute will be discussed and the areas which can be easily resolved, will be taken as priority.
"We will not be able to resolve the dispute at once as we will take up areas one by one and if needed joint visits can be undertaken to the disputed areas to understand the ground reality," he added.