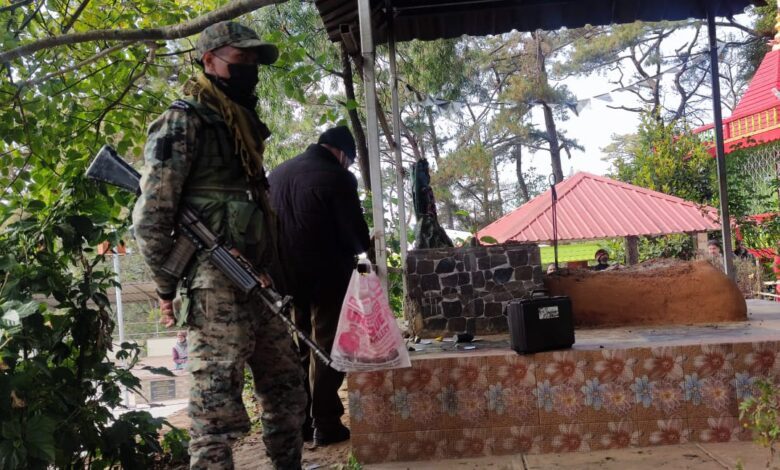 Shillong,Jan 4: Chief Minister Conrad Sangma, Home Minister Lahkmen Rymbui and Meghalaya police are yet to provide any statements regarding the desecration of idols at Marwari crematorium at Mawbah in the city.   
The chief minister and the home minister use twitter accounts frequently while police used to issue statements regarding the incidents of crime but not in this case.
The Marwari crematorium secretary and VHP had already filed separate FIRs and the Central Puja Committee met the East Khasi Hills Deputy Commissioner on Monday.
In a statement, the Shillong All Faiths Forum (SAFF) has condemned the desecration of idols.  
 "The SAFF strongly denounces this incident, and the representatives of all the faith communities under the SAFF have unanimously expressed great displeasure that this obnoxious act had taken place in Shillong," SAFF president, Dr P Lyngdoh said.  
He said the incident on the intervening night of January 1 and 2 where the idol of a goddess was vandalised is truly a case of pure hooliganism and thoughtless vandalism.
 "If not tempered with sanity and understanding, acts such as these would portend to invoke communal hatred and religious fanaticism and perpetrators of these incidents should be appropriately dealt with by the authorities," Lyngdoh added. 
The SAFF urged leaders of different communities and organisations to be on the alert to curb repetitions of these acts and at the same time to identify those who are crying out in need of lawful support, guidance and counselling. "These will help promote harmony and respect in the communities", he said.
The SAFF also wanted the authorities to secure vulnerable locations in and around the city . 
TUR concerned   
In a statement, the Thma U Rangli-Juki (TUR) condemned the incident and demanded that perpetrators should be brought to book.
TUR leader Angela Rangad said the act of icon desecration comes at a time when across India religious minorities have been consistently facing physical as well as ideological attacks from Hindu majoritarian organisations.
"Calls for genocide and anti Muslim rhetoric, attacks on churches and Christmas celebrations, anti conversion laws, cancellation of FCRA licenses of minority charitable organisations like missionaries of charity etc. And sadly India seems to be celebrating majoritarian violence and there is s defeaning silence," she said.
 TUR also condemned all instances of majoritarian violence whether in other states of India or Meghalaya.
 "It is important that we in Meghalaya guard against such majoritarian impulses and work towards a pluralist Meghalaya where its minorities both religious and ethnic feel safe and their security genuinely assured," Rangad added.