Headlines
Cong working prez accuses Pala of causing downfall of party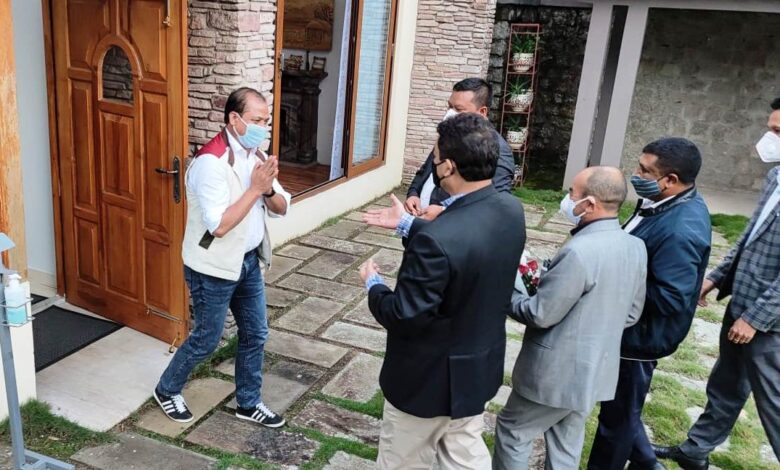 Shillong, Dec 1: Former Congress working president James Lyngdoh has accused MPCC president Vincent Pala of working against party MLAs in the past elections.
When asked to elaborate on his allegation, James, who quit the party on Wednesday, pointed out the example of Sutnga-Saipung legislator Shitlang Pale who got only five votes from Pala's village in 2013.
Shitlang got only 5 votes and lost in the 2013 Assembly elections. When he was re-elected in 2018, he again secured only twenty-eight votes from Pala's village, which means that the MPCC chief is working against Shitlang," he alleged.
James also slammed Pala for the delay in taking over as the MPCC chief. "He took 18-19 days to take charge of office and when he did, the first thing he did was to sideline me though I had worked very hard in all three MP elections," James said.
He alleged that one of the reasons for the downfall of the party was due to the attempt by the MPCC president to create a division among the three tribes – Khasi, Jaintia and Garo.
"This has also led to the defeat of the Congress in the just concluded Rajabala bypoll. Pala had stated that people should vote for the Congress to get a Khasi chief minister. Conrad Sangma took that statement as an election agenda," he said.
Regarding the Mawryngkneng bypoll, James questioned the decision of the MPCC to sideline Charles Pyngrope, who is also the father of the former sitting MLA, (L) David A Nongrum by appointing Ampareen Lyngdoh as the convener during the election campaigning.
"The MPCC wanted to push Charles Pyngrope to Mawryngkneng in 2023 by allowing the party candidate Highlander Kharmalki to lose the bypoll," he said. 
The downfall of the Congress in Meghalaya started with the removal of DD Lapang as MPCC chief in 2017, he said.
 "The Congress could have won many seats but because of the change of guard (Lapang's removal), they again decided to give forms to aspiring candidates though the exercise was already done by Lapang and this had led to the party winning only 21 seats in 2018 Assembly polls," he said. 
He also questioned the decision to appoint Celestine Lyngdoh as MPCC chief when senior leaders like RC Laloo and HDR Lyngdoh were available.
James said Celestine was a failure as MPCC president. "Have you ever seen him (Dr Celestine) campaigning during the 2018 Assembly elections and other elections to the ADCs and Member of Parliament," he asked.
James also appreciated the exit of 12 MLAs led by the CLP leader Mukul Sangma to All India Trinamool Congress.
"They have done the right thing by leaving the Congress," he added.