North East
Failure of BSF intelligence blamed for Tripura ambush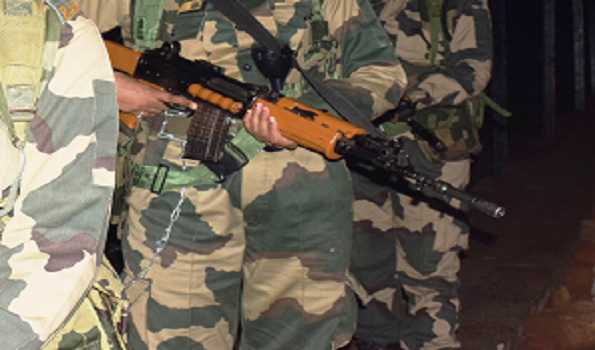 Agartala, August 4 (UNI): The failure of BSF intelligence has been blamed for the killing of two jawans on Tuesday at Tripura's eastern border with Bangladesh in militants' bullets. The banned NLFT was able to take away two sophisticated weapons from the slain jawans, sources in Tripura police said on Wednesday.
According to the report, despite repeated warnings to activate surveillance and put other network apparatus in place BSF has failed to intercept the cross-border movements of NLFT militants and their collaborators in different stretches of the eastern part of Tripura.
Earlier, militants had served extortion notices in the interior villages of Gandacharra and Longtarai Valley escaping BSF surveillance.
Sources claimed the militants had been active in the locations for the past few days and observed the movement of BSF in the border. They had ambushed in the forest towards wire fencing and when the jawans reached the spot, militants fired on them from the right at R C Nath border outpost range of Chawmanu.
However, even after a day of the incident, BSF Tripura Frontier did not issue a detailed statement on the incident. No officer concerned was available on phone for media query, which has raised many questions. The BSF here is almost disconnected from media interaction except for sharing some press releases and the same with the bordering population.
As a result, the BSF sources have become dead in terms of getting information regarding cross border militant movements or smugglers activities.
The police sources apprehended the eastern border of Tripura has recently become hostile because of the inactive role of BSF regarding the information regarding cross border militant movement.
Leaving aside guarding the border, BSF Tripura Frontier has taken the lead role in cracking down the cannabis movement and narcotics, sources added.