Infotainment
G20 Concert for Communal Harmony enthralls city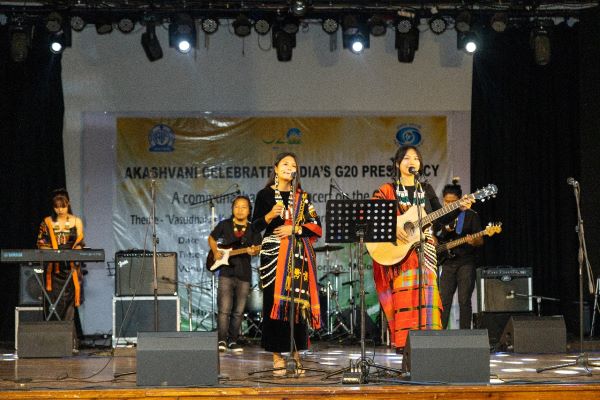 Shillong, Sep 7: Akashvani North Eastern Service Shillong presented the G20 Concert for Communal Harmony, an event that brought together the power of music and unity in an extraordinary afternoon of entertainment and inspiration, on September 6.
The programme started with the welcome address by Hamarlin Diengdoh, Head of Office, Akashvani North Eastern Service and Akashvani Shillong.
The concert at the U Soso Tham Auditorium represented the spirit of togetherness and cultural diversity.
The G20 Concert with the theme 'Vasudhaiva Kutumbakam-One Earth One World One Future' featured an incredible lineup of artistes from the North East.
The event was a resounding success, with scores of music enthusiasts from Shillong coming together to celebrate the beauty of diversity and the importance of communal harmony. Songs highlighting climate change and traditional ways of preserving the environment were remarkably performed by students who are staying in Shillong and who belong to Arunachal Pradesh, Assam, Nagaland, Sikkim and Tripura.
Popular army band 'The Rhino Boys' led by Priyo Kumar Singh and the famous local band '2dB' led by Felix Langstieh also performed.
Highlights of the G20 Concert for Communal Harmony included mesmerising performances by young energetic musicians, captivating India's rich cultural heritage.
The show ended with the song 'We are the World', which was sung by all the artistes, including Ferdinand A. Dkhar, Head of Programme NES. The audience did not want the show to end and shouted for more songs and the 2Db band fulfilled their demand.