Shillong, June 27: The state lost an independent journalist. 'The World Today' lost its leader.
Lukas Morrow Mohon Kharpuri, the editor, publisher and printer of bilingual weekly Ka Pyrthei Mynta (The World Today), passed away on June 25. He was 83.
He was laid to rest on Sunday.
There was no condolence from the fraternity until Sunday (June 27) evening. Nonetheless, that was not new for Kharpuri for he had always been an unsung hero. But he was not someone who ceased to fight.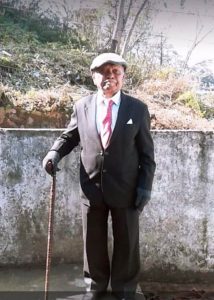 "One journalist came yesterday (on Saturday)," said Honorius Nongrum, Kharpuri's son, as he subtly expressed his embarrassment at the reluctance of the fraternity to acknowledge his father's contribution to journalism.
The Sunday evening was quiet as usual in lower Nongrim Hills, at least quiet enough to not arouse a stranger's suspicion. But for an old friend and colleague, the loss was palpable.
Kharpuri, who was lovingly called Bah Morrow or Bah Mohon, was always a soft-spoken man. His countenance calmed the nerves of young journalists and the smile on his face was always assuring.
Those who speak volumes about independent journalism almost forgot Kharpuri as he lost the battle against time. But his endeavours and works will be timeless. He started the weekly in 1979 and used the traditional method of printing till 2017, when the new machine came.
Ever More, says the address on the flex board outside Kharpuri's house. The "printing press" catered to all kind of demands in its capacity but remained dedicated to journalism. With 500 subscribers and Rs 100/annum subscription fee, it is no wonder that the press has to branch out to sustain the competition.
"It was a struggle and all seven of us (Kharpuri's seven children) would help him in the press," said Honorios, who is a 'reporter' at Ka Pyrthei Mynta. 
"I was the marketing and advertisement person. He was our trainer," Margaret Nongrum, the eldest daughter, was almost inaudible as she remembered her father.
Kharpuri, who was originally from Shella, studied Social Work in Delhi University and later acquired law degree from Shillong Law College. He took up a job when in school and supported his family in Shella. "However, he was a strict father and had a disciplined life. He was meticulous and had a sharp memory. We could not even move a pen from his desk without his notice," said Margaret.
The bilingual weekly is delivered through post and has dedicated readers. The black and white printing machine was bought in 2017. When asked whether the family would want to continue with the publication, the siblings were assertive. "We are already trying to get separate electricity connection for the machine. We will try our best," said Margaret.
Damasius Nongrum, the youngest of the seven siblings, is a printing engineer and would help his father at the press. He is determined to continue printing the weekly but sounded apprehensive about colour editions. "Let us see. We have this machine for now," he said.
There are some journalists who thrive for fame, and there are others, like Kharpuri, who write for change. He fought for several local issues and one among them was the dilapidated road in the locality. Lower Nongrim Hills now has a PWD road. "Father wrote extensively about this," Honorius said.
"The Shillong Press Club expresses profound grief at the unfortunate passing away of yet another strong pillar of journalism of Meghalaya," said the statement from the Shillong Press Club late on Sunday evening .
Unfortunate it is. And probably the strongest pillar of journalism in the state broke on June 25 as Kharpuri breathed his last. The world today is one short of a struggling independent journalist.