Headlines
Probe whether bomb was buried beneath, Ampareen to police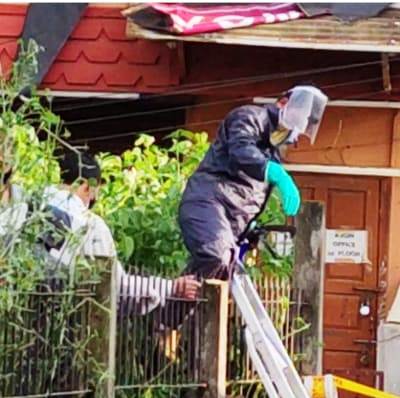 Shillong, Aug 10: Congress legislator from East Shillong Ampareen Lyngdoh has said it appears that the bomb was buried beneath the parking lot at Laitumkhrah for sometime before it was detonated on Tuesday.
"I believe due to the lockdown, many may not have noticed any unusual activity at the parking lot", she said.
She asked the police to probe all angles.
Ampareen said she visited one of the injured, Christine Nongkynrih at the hospital and added that her sister Cynthia was unhurt.
She said the siblings from Mawiong were at their tea shop when the blast took place.
"They just shifted to the new tea shop as the place was renovated since the old market is being dismantled", she said.
"The shop was at the edge of the market and it was closed for six months, the siblings were cleaning the shop after the relocation of the market", she said.
Ampareen informed that one more person identified as Alan who was standing next to the lane sustained injuries as the splinters of the bomb hit him.
She condemned the blast and wanted the government to take action against those involved.
"It is just correct for us to condemn this and to ask the police to get to the bottom of it and nab those who are responsible for this horrible scare to the people of our constituency," Lyngdoh told reporters after visiting the place.
The MLA said these kinds of agendas should not occur in public places.
Appealing people to be clam, she said, "I am requesting for peace, I am requesting that there should not be these kinds of scares as we have already gone through a lot of hardships because of the pandemic," she asserted.
To a question, Lyngdoh said somebody is trying to say something to someone and that is scary.
"I am not connecting it to anything else but I am saying the intel failure is something which we need to question now and if there is an intel failure then it is a compounded attack on the public. This was a simple attack on public who were trying to recover their livelihoods after this huge lockdown crisis," she added.
TUR condemns attack
Thma U Rangli-Juki (TUR) has condemned the IED blast in Laitumkhrah.
"TUR condemns such cowardly acts of violence against civilians and the perpetrators responsible for it, especially during this pandemic when the working classes are struggling for survival. Those responsible for such an action are also anti-people. The Meghalaya police must investigate and punish whoever is responsible for such actions," TUR leader Angela Rangad said.