Sports
Swimmers bring laurels to International School Guwahati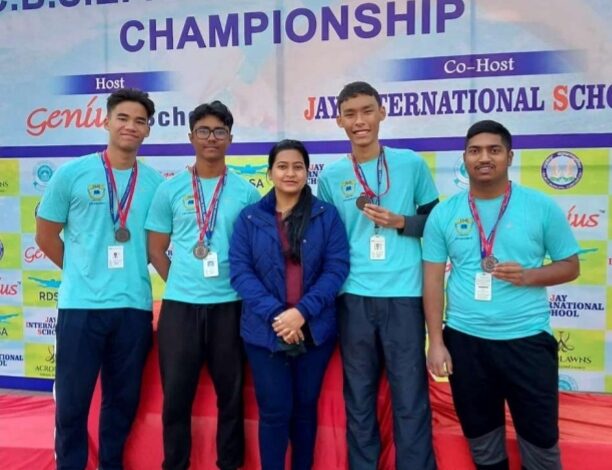 Shillong, Jan 30: Four swimmers brought glory to International School,Guwahati ( ISG) by securing Bronze Medal in 4×100 Meter Medley Relay at the CBSE National Swimming Championship ,2023 held at Rajkot, Gujarat from January 21 January to 24.
The swimmers of International School, Guwahati – Niko Moasangba Aonok, Orai Tuime Daimari, Tanmoy Baruah and Trinav Gogoi represented the ISG for the first time in the recently concluded CBSE National Swimming Championship.
Earlier, the swimmers had bagged silver medal at the CBSE Far East Zone Swimming Championship, 2022 held at Raipur from  December 2 to 6 and thereby qualified for the national. The swimmers were trained under Sonia Shahnaaz Majumdar (swimming coach) who also accompanied the swimmers for both the swimming championships.
Altogether around 1200 swimmers took part in the  championship along with the CBSE schools of U.A.E, Oman, Qatar and Kuwait.
The  championship was hosted by the Genius School and co-hosted by Jay International School in association with Rajkot Municipal Corporation & Rajkot District Swimming Association.
Photo caption: Left to right swimmers: Niko Moasangba Aonok, Trinav Gogoi, Sonia Shahnaaz, Majumdar (swimming coach) Orai Tuime Daimari and Tanmoy Baruah.