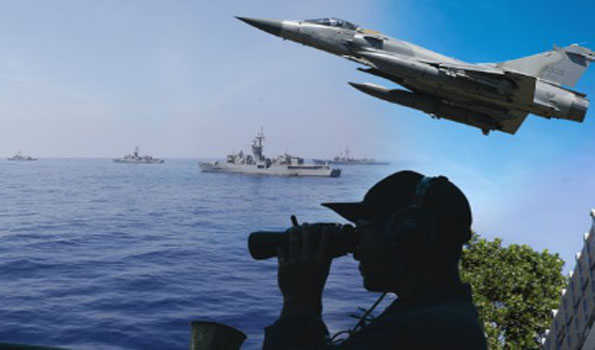 Taipei, Apr 8 (UNI): The Taiwanese Defense Minister reported on Saturday it had detected 42 jets and eight vessels of China's People's Liberation Army (PLA) approaching the island as part of Chinese air and naval military drills in the area.
Earlier in the day, China announced its armed forces would be conducting an exercise from April 8-10 in the maritime area and airspace around Taiwan. This exercise is a warning to separatists supporting Taiwan's independence, as well as a necessary measure to protect the sovereignty and territorial integrity of China, according to Beijing.
"42 PLA aircraft and 8 vessels were detected by 11:00(UTC+8) [3:00 GMT] April 8th. 29 of the detected aircraft had crossed northern, central, and southern median line of the #TaiwanStrait and entered our southwest #ADIZ [Air defense identification zone], attempting coercion on us," the Taiwanese Defense Ministry tweeted.
The situation has been monitored, and aircraft, ships and ground-based missile systems of the Taiwanese military have been instructed to respond to China's activates, according to the statement.
"We condemn such an irrational act that has jeopardized regional security and stability," the statement read.
Taiwan has been governed independently from mainland China since 1949. Beijing views the island as its province, while Taiwan — a territory with its own elected government — maintains that it is an autonomous country but stops short of declaring independence. Beijing opposes any official contacts of foreign states with Taipei and considers Chinese sovereignty over the island indisputable.