National
Trinamool sweeping Bengal; DMK set to return in Tamil Nadu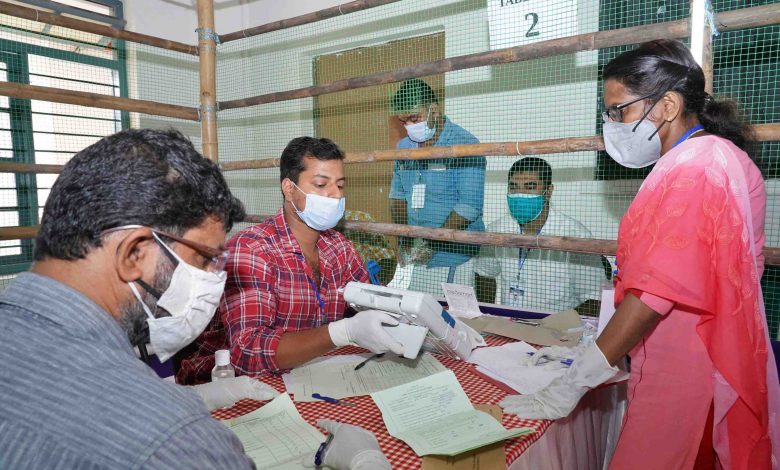 New Delhi, May 2 (UNI): The Mamata Banerjee-led All India Trinamool Congress looks set to retain power in West Bengal, upsetting the pollsters who predicted a neck and neck contest with BJP, as it is leading comfortably in more than 200 of the 292 seats that went to polls in eight phases.
The Bharatiya Janata Party, despite a decisive campaign and rallies by star campaigners Prime Minister Narendra Modi and Home Minister Amit Shah, is leading in 80 seats.
The Left parties, which have once ruled the state for 35 years, have not opened their account, while Indian National Congress was leading only in one seat.
In another significant development, Stalin-led Dravida Munnetra Kazhagam (DML), in alliance with the Congress, will replace the 10-year-old rule of All India Anna Dravida Munnetra Kazhagam, as it was racing ahead in 119 seats while the latter at 81 seats of the total 234 seats.
In Assam, Sarbananda Sonowal-led NDA will retain the northeast state as it was ahead in 66 of 120 seats. The opposition UPA was leading in 43 seats.
The Left Democratic Front (LDF) in Kerala will become the first to retain power as the coastal state has an odd history of changing goal post every five years. LDF has a lead in 86 seats while the opposition Congress-led United Democratic Front was ahead in 42 of 140 seats. The BJP-led NDA was leading only in four seats.
All India N R Congress-led BJP alliance in Puducherry is heading towards a victory as it was leading in eight seats while Congress in only three seats. The Congress recently lost the majority in the Territorial Assembly as several MLAs resigned.
The opposition parties were quick to congratulate Banerjee. Aam Aadmi Party chief and Delhi Chief Minister Arvind Kejriwal and Nationalist Congress Party head Sharad Pawar wrote congratulatory messages on Twitter.
However, despite the strict warning from the Election Commission of India of no victory processions or gatherings in view of the virulent second wave of Covid-19, celebrations were seen in some parts of Tamil Nadu where DMK supporters rejoiced and gathered flouting rules.
The ECI issued a notice to chief secretaries of the four states and one union territory to check such gatherings.
The elections were held between March 27 and April 29. West Bengal went for polls in eight phases. However, polling on two seats was postponed due to the death of candidates. Voting for Assam was held in three phases while in Tamil Nadu, Kerala and Puducherry, the polling was conducted in a single phase.