National
We want to live with dignity, but govt wants to humiliate us: PAGD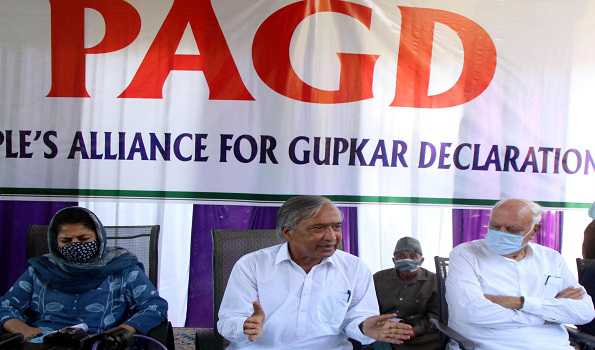 Srinagar, August 24 (UNI): Asserting that the 'people of J&K want to live with dignity even as the government allegedly takes pleasure in humiliating them', Peoples Alliance for Gupkar Declaration (PAGD) on Tuesday said the present regime wants Kashmir, Jammu and Ladakh to remain silent as a graveyard.
"We want to convey to the civil society and people of India that we too want to live with dignity like everyone else. We don't live to live a life of humiliation. But the current government takes pleasure in humiliating the people. That is unacceptable and can't be allowed to continue," PAGD spokesperson Mohammad Yousuf Tarigami, flanked by other leaders of PAGD, including its chairman Farooq Abdullah, told reporters during a press conference here on Tuesday.
PAGD leaders and workers, including from the National Conference (NC), Peoples Democratic Party (PDP), CPI(M), met at the residence of its chairman on Gupkar road on Tuesday.
The PAGD had called a meeting to discuss the prevailing situation in the Union Territory and have wider consultations on the way forward for restoration of the special status of erstwhile state of J&K.
"The government wants Kashmir, Jammu and Ladakh to remain silent as a graveyard. The government doesn't want descent… it doesn't want people to hold their heads high and it takes please in humiliating us," Tarigami alleged.
Lashing out at the Centre, Tarigami said the unjustified and frequent raids of different agencies, including National Investigation Agency (NIA) and the Enforcement Directorate (ED), on the leaders seemed to be aimed at 'projecting all the leaders as thieves and criminals in J&K'.