Headlines
Twin murders shock Nongstoin
Bodies of elderly woman & domestic help found in pool of blood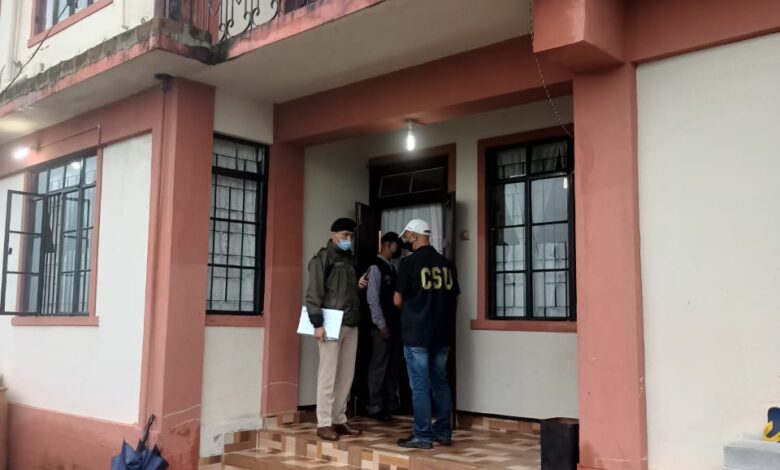 Shillong, Aug 24: Nongstoin on Tuesday woke up to the tragic news of murder of an elderly lady and her domestic help.
Phlisis Syiem (79) and her domestic help, 25-year-old Maitlynti L Marshillong,were found in a pool of blood on Tuesday morning at the former's residence (in picture) in Nongstoin.
Police found a knife used for killing the duo and it is suspected that some goons are involved in the crime.
However, the police have ruled out robbery as motive as nothing was taken away from the house of the lady ,who was staying alone.
According to the police,  on Tuesday afternoon, a written FIR was received from Fairman Syiem (53), son of (L) Standing Dkhar, a resident of Nongstoin village that at around 10.20 am, he and others noticed that their mother's house was under lock . Hence, they broke the lock, entered the house and found the body of their mother lying dead in a pool of blood in the dish washing room . Further on entering another room, they spotted the body of the domestic help , daughter of Sharbarlang Nongrang of Upper New Nongstoin, which was also lying in a pool of blood in her bed room.
The relatives suspect that some miscreants have killed them.
Police registered a case at Nongstoin police station under 302/34 IPC sections.
Sub-inspector DP Nongbri of women police station was entrusted to investigate the case.
The SP, Herbert Lyngdoh has constituted a Special Investigation Team to solve the  case and crime scene unit and dog squad from Shillong have also arrived at the site.