National
Women MPs 'manhandled' in Rajya Sabha; govt blames opposition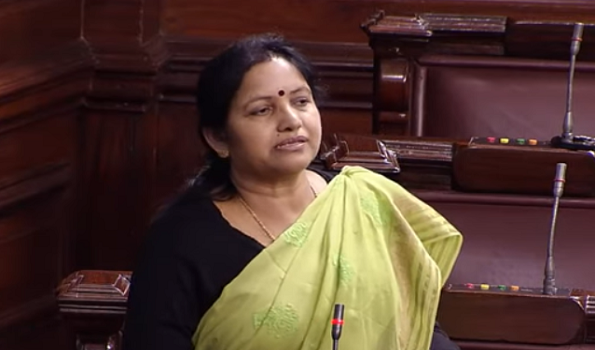 New Delhi, August 11 (UNI): Women opposition MPs of the Rajya Sabha on Wednesday alleged manhandling by marshals in the House while the government denied the charge and accused the opposition of getting in a scuffle with the marshals.
The Congress MPs from Chhattisgarh, Chhaya Verma and Phulo Devi Netam, said male marshals pushed them in the Rajya Sabha as Opposition MPs were protesting.
"There was push and shove, and we fell down. Another MP from Chhattisgarh, Phulo Devi, also fell down," Verma said.
She said after the OBC Bill was passed, the entire Opposition wanted rest of the bills to be taken up on Thursday. The government, however, wanted to pass the bills on Wednesday so that the House could be adjourned sine die, she added.
"They brought so many Bills at the last moment, MPs also need time to study a Bill, so we wanted the Bills to be taken up tomorrow," Verma said.
She alleged that a large number of marshals were called in the House and Opposition members were manhandled.
"The number of marshals was at least three times that of MPs. There was lot of push and shove," she said.
Verma also accused minister Ramdas Athawale of using unparliamentary language.
"They passed three bills in five minutes. Yes, you have majority, but what kind of bullying is this," she said.
Trinamool Congress Derek O'Brien also tweeted about the large number of marshals present in Rajya Sabha.
"There are more security guards than MPs in the House as the government tries to bulldoze Insurance Bill," O'Brien said.
In another tweet, he accused the government of using "gender shields" by placing male marshals in front of women MPs and female marshals were posted in front of male MPs. He also posted pictures from the House showing the scene.