Headlines
Harijan committee wants 10 acres of land, houses in exchange of Colony
Shillong, April 25: The Harijan Panchayat Committee (HPC) wanted 10 acres of alternative land as part of relocation and stressed on government constructing houses on the land in exchange of current land at Them Iewmawlong, to accommodate the residents of Harijan Colony.
After the second meeting between the state government and a delegation of HPC held on Monday, the HPC secretary Gurjit Singh said  the discussion was on the relocation of the 342 families residing at the Harijan colony.
Singh said the delegation asked the government to provide 10 acres of permanent land at the European ward and financial assistance for the construction of the houses.
To a question on the demand for huge quantity of land from the present 3.33 acres,  Singh said once valued, it will come to 10 acres.
Following the meeting, the state government has decided to work on a blueprint on the conditions set by the HPC.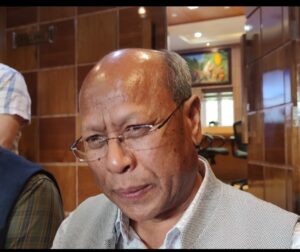 Deputy Chief minister Prestone said in the  meeting the HPC has agreed for relocation however they have put forward certain conditions.
They (HPC) wanted that all 342 households, who have already been inventorised way back in 2008, to be shifted to one location which should be within the government revenue land, which we have agreed," he said.
Tynsong added,"Once the unit is constructed whether they will be able to own that unit generation to generation is also one of the issues where they wanted to get the details from the government side."
Tynsong said the urban affairs department will prepare a blueprint /proposal and once that is done, it will be sent to the HPC.
He said the next meeting is likely to be held before May 10 or 15.
However, he said the government has agreed on both the demands of HPC- a separate location for all the 342 households and  permanent settlement in the land provided to them.
On the alternative site for relocation, he said that the government is yet to finalise on the matter. "Of course, we have identified not less than two-three places. However, we will be able to tell you exactly once the urban affairs department is done with all the details of the proposal."
Tynsong said once both the parties agree on the conditions, they will jointly file an affidavit to withdraw the pending petition in the high court .