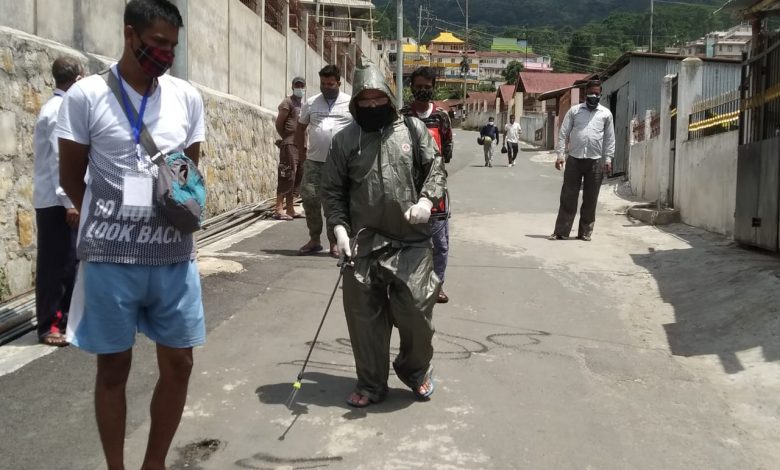 Shillong, May 22: The Lumparing Welfare Society is doing a yeoman work to keep the locality safe amid the second wave of Covid-19.
The society in Lumparing Mynsain, a Bengali-dominated locality, has been providing space and food to those affected by the corona virus. There are over 10 cases in the locality.
On Saturday afternoon, members of the society were seen monitoring a sanitisation drive in the locality. "The drive is from the welfare society as there are positive cases here. No, the government is not giving us any money," said Angshuman Das, secretary of the society, when asked whether the government is providing fund for the services.
A part of the Lumparing Vidyapith building is being used by the society to give shelter to two Covid-19 patients because "the building they live in houses several families and social distancing would not have been possible", Das said.
The society members are contributing money to provide food to the quarantined residents of the locality. It has also organised a vaccination drive from Tuesday.
"Over 95% residents have registered for vaccination. We have put in place WiFi connection in the school building. In fact, in our locality, vaccination of residents aged 45 years and above has been cent per cent," said Das.
"There were apprehensions among some people but we have made them aware and convinced them to get vaccinated. We hope our locality will be cent per cent inoculated with this drive," he added.
At a time when the state government is stressing the need for community quarantine, there is no financial help for such services. Bijit Dey, president of the society, said the district administration trained the members in carrying the bodies of the ones who died of Covid-19. "We were also taught how to wear PPEs and take precautions. Though we got PPEs from the authorities, there was no financial support," he added.
But even without government support, the locality has set an example in community care. "Shops will open on Tuesday but only a few. To avoid crowding, we have decided that households should make a list of articles they need and submit them to the shops along with their phone numbers and carry bags. They can collect the bags once the shop keeper informs," said Das.