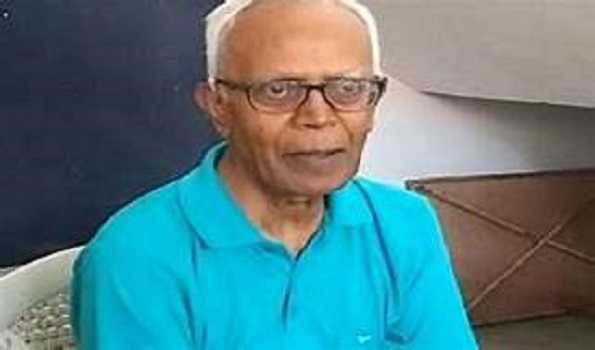 Mumbai, July 5 (UNI): Human and tribal rights activist Father Stan Swamy died in a hospital here on Monday. He was 84.
Doctors of Holy Family Hospital, Bandra, informed the Bombay High Court about Swamy's death during the hearing of his bail plea on medical grounds.
Swamy was an accused in the alleged Elgar Parishad case.
The octogenarian was put on ventilator support on Sunday as he was facing difficulty in breathing due to fluctuating oxygen levels. He suffered a cardiac arrest on Saturday morning.
Swamy was admitted to the hospital in May this year on the directions of the High Court over the appeal by his council for medical treatment as he had complained of illness to the jail authorities.
The Jesuit priest, already a patient of Parkinson's disease, tested positive for Covid-19, and was shifted to the Intensive Care Unit of the hospital.
Swamy was born in Tiruchirapalli in Tamil Nadu. He later shifted to Jharkhand and worked and fought for the rights of the tribals.
The activist was arrested from Ranchi by the National Investigative Agency (NIA) in October 2020 in connection with the alleged Elgar Parishad case and lodged in Taloja central jail on Maharashtra.
The case pertains to violence that marred the bicentenary of the Bhima-Koregaon war in Pune in 2018. It was alleged that the violence was ignited by an event "Elgar Parishad" held a day earlier, December 31, 2017, where several activists having 'Maoist' links participated. Swamy was questionably the oldest person to be booked under the stringent Unlawful Activities (Prevention) Act (UAPA).
Bail pleas by his council were rejected by the court. Swamy had knocked on the doors of the court to get a sipper with a straw to drink water in the jail as was unable to do so from glass due to his shaking hands, a symptom of Parkinson's disease.
The National Human Rights Commission has taken cognizance of his condition inside the jail and asked the Maharashtra chief secretary to ensure proper medical treatment was provided to Swamy.
The opposition has alleged that the case against the activist was "cooked up" and demanded his release.
"Heartfelt condolences on the passing of Father Stan Swamy. He deserved justice and humaneness," former Congress president Rahul Gandhi tweeted.