International
Two Indians killed in suspected Houthi drone attack in UAE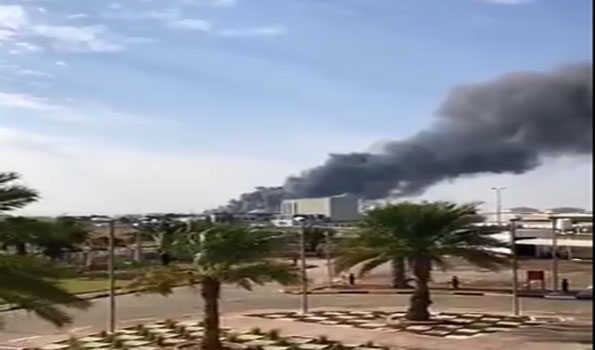 Abu Dhabi, Jan 17 (UNI): Two Indians and a Pakistani national were killed when three petroleum tankers exploded in Abu Dhabi in a suspected Houthi drone attack on Monday.
This comes even as seven Indian crew members continue to be in the captivity of Houthi rebels who seized a UAE-flagged ship on January 2 in the Red Sea.
The Indian Embassy in Abu Dhabi has confirmed the death of two Indian nationals in the explosion and said it is in close touch with UAE authorities for further details.
The Indian Embassy in a tweet said, "UAE authorities have informed that the explosion at Mussafah, near ADNOC's storage tanks, has led to 3 casualties, which includes 2 Indian nationals.
"The Mission @IndembAbuDhabi is in close touch with concerned UAE authorities for further details."
Earlier, the state-run WAM news agency quoted Abu Dhabi Police as saying that three people were killed — two Indians and one Pakistani — and six others were injured in the explosion that occurred after a fire broke out on Monday morning in the Musaffah ICAD 3 area near the Abu Dhabi National Oil Company (Adnoc).
The explosions happened in ICAD 3, Mussaffah, near Mohamed bin Zayed City.
Preliminary investigations suggested that small flying objects, possibly related to drones, fell into the areas and started the fires, WAM reported.
Authorities have launched an investigation into the incident.
A smaller fire was also reported in the new construction area of Abu Dhabi International Airport.
The fire has been put out, it said.
On January 3, Yemen's Houthi rebels seized a UAE-flagged vessel in the Red Sea, amid escalation in the fighting between the rebels and the Saudi-backed coalition.
The seized UAE flagged ship Rawabi has 11 crew onboard of whom seven are Indian nationals.
India has said it is in touch with the company operating the ship and has urged the Houthis to release the Indian sailors.